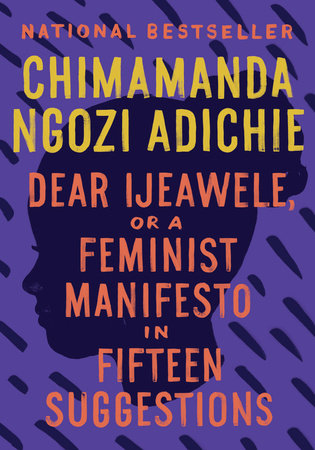 Chimamanda Ngozi Adichie
Dear Ijeawele, or A Feminist Manifesto in Fifteen Suggestions
A few years ago, Chimamanda Ngozi Adichie received a letter from a dear friend from childhood, asking how to raise her new baby girl a feminist. 
     Although she has written and spoken out widely about feminism, Adichie wasn't sure how to advise her friend Ijeawele. But as a person who'd babysat, had loved her nieces and nephews, and now, too, was t
he mother of a daughter herself, she thought she would try. So she sent Ijeawele a letter with some suggestions--15 in all--which she has now decided to share with the world. 
     Compelling, direct, wryly funny, and perceptive, 
Dear Ijeawele
offers specifics on how we can empower our daughters to become strong, independent women. Here, too, are ways parents can raise their children--both sons and daughters--beyond a culture's limiting gender prescriptions. This short, sharp work rings out in Chimamanda's voice: infused with deep honesty, clarity, strength, and above all love. She speaks to the important work of raising a girl in today's world, and provides her readers with a clear proposal for inclusive, nuanced thinking. Here we have not only a rousing manifesto, but a powerful gift for all people invested in the idea of creating a just society--an endeavour now more urgent and important than ever.
---
Share this Product
---
More from this collection