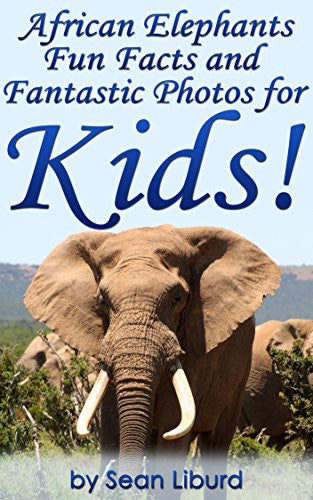 Sean Liburd
African Elephants Fun Facts and Fantastic Photos for Kids!
What are African Elephants? How different are they from Asian Elephants? What do they look like and what do they like to do? What makes male and female elephants different from each other? These and more questions will be answered with the help of this book.

Elephants are big and somewhat scary, especially for young kids. But with this book titled "African Elephants Fun Facts and Fantastic Photos for Kids! Learn About African Animals", kids will surely have fun learning about these big animals and will be taught to appreciate them a lot more. In this book, you will learn about:

How African Elephants look?
What African Elephants eat?
Where the word "Elephant" came from?
What elephants are scared of and which animals are considered as their predators?
What African Elephants like to do with their time?
Facts about baby, male, and female elephants!
Animals that are considered elephants' best friends.
Why Elephants sometimes become aggressive?
What makes elephants mad?
Why it's important to keep elephants safe?
How elephants deal with death?
How elephant parents take care of their children?
How elephants escape from danger and how you can protect yourself in case you find yourself being threatened by elephants?
What makes elephants and humans similar?
And so much more!

The book is also filled with fun, weird, and little-known facts about African elephants and elephants in general. Plus, kids will also enjoy seeing full-color photos of African and Asian Elephants doing different things. This way, it will be easier for them to understand the life of elephants!

If you want to know more about Elephants and understand why they are important in this world, download and read this book now and get to know everything you need to know about them and more!
---
Share this Product
---
More from this collection