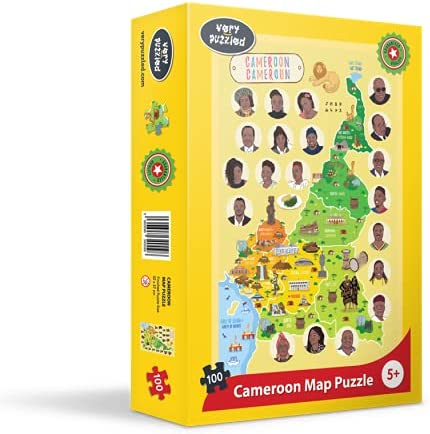 Very Puzzled
Cameroon Map Jigsaw Puzzle
Cameroon is a country in Central Africa and West Africa.  Cameroon is often referred to as "Africa in miniature" for its geological and cultural diversity. Natural features include beaches, deserts, mountains, rainforests, and savannas.  The highest point at almost 4,100 metres (13,500 ft) is Mount Cameroon in the Southwest Region of the country, and the largest cities in population-terms are Douala on the Wouri River, its economic capital and main seaport, Yaoundé, its political capital, and Garoua.
The country is well known for its native styles of music, particularly Makossa and Bikutsi, and for its successful national football team. Cameroon has many notable citizens that include Werewere Liking, Roger Milla,  Manu Dibango, Nkanya Nkwai, Samuel Eto'o as well as many others.

The Very Puzzled Cameroon map jigsaw puzzle consists of 100 pieces and each region of Cameroon is  represented with a variety of landmarks, monuments and attractions it will provide endless fun and topics of discussion that can be used as fun way to learn for both children and adults.
A contemporary and colourful map of Cameroon.
High quality 100 piece cardboard jigsaw puzzle
The finished puzzle measures 52 x 37 cm when complete.
Suitable for ages 5 years and up.
Made from strong premium grade cardboard, with linen finish print to minimise glare on puzzle image.
---
Share this Product
---
More from this collection