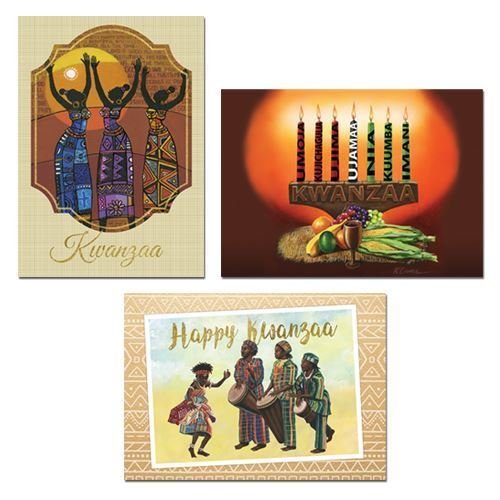 African American Expressions
Kwanzaa Assortment Card
One great way to share the spirit of Kwanzaa and let people know we're thinking of them during this important time of year is to offer beautiful and inspiring Kwanzaa cards.
Your Sentiments Delivered Beautifully
This tasteful Kwanzaa card set features three unique designs. You get 15 cards per set, so you're sure to have enough to send to everyone. You might even want to order several sets so that you always have Kwanzaa cards on hand and can share the message of this important holiday to even more friends, family, coworkers and other members of your community.
Size: 5" x 7"
3 designs / 15 cards and envelopes per box
Inscriptions:
K-916: May the spirit of Kwanzaa fill your heart. Bringing peace to the past, prosperity for today and bright hope for tomorrow. Kwanzaa Blessings!
K-918: May your heart be filled with light as we celebrate the rich Kwanzaa heritage and principles. Let us take the time to share love and laughter for generations to come. Happy Kwanzaa!
K-919: May the spirit of Kwanzaa revive and strengthen you as you journey down the path according to the valuable principles of the season. Happy Kwanzaa!
---
Share this Product
---
More from this collection