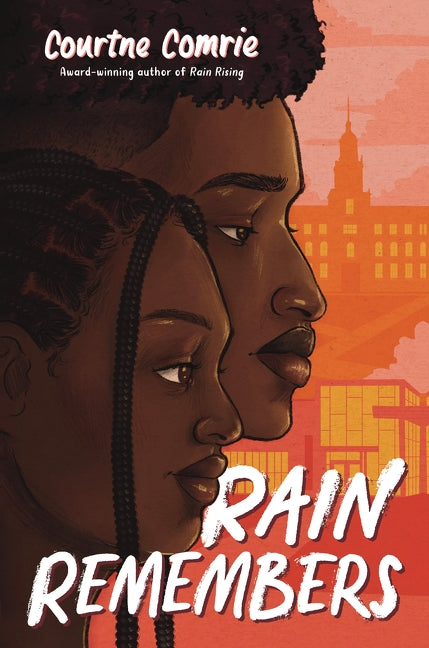 Courtne Comrie
Rain Remembers
"A satisfying, well-written, and authentic sequel highlighting the ways healing and self-love are ongoing processes." —Kirkus Reviews (starred review) 
"Comrie again proves skilled in discussing topics of harassment, mental health, and (via a subplot about a friend's uncle) the deportation system, in verse as lyrically captivating as that of its predecessor. Rain and her friends remain sympathetic characters to connect with and root for." —Horn Book Reviews
In the companion novel to the critically acclaimed Rain Rising, Rain must once again find the strength to rise above.
The start of the school year is bringing a lot of changes for Rain: New school. No Circle Group. No Dr. McCalla. No Miss Walia. No step team. And Xander, her older brother and superhero, is away at college.
Although everyone else seems okay with change, Rain struggles to open up to her new counselor, her mom, Umi, Alyssa, and even Xander, who seems to have forgotten all about her while away at college. But when an older boy starts giving Rain more attention than she asked for—will she be able to open up again before things go too far?
As Kirkus Reviews said of Rain Rising: "A gorgeous debut: a necessary, cathartic, immersive healing experience." Readers will be eager to follow Rain in this companion novel. Like the rain, she is both gentle and a force, finding strength to rise again.
Praise for Rain Rising:
"A gorgeous debut: a necessary, cathartic, immersive healing experience." —Kirkus Reviews (starred review)
"In this gut-wrenching verse novel by debut author Comrie, thirteen-year-old City Middle School student Rain Washington grapples with the aftermath of a violent racist attack. . . . Comrie sensitively tackles myriad topics, including colorism, fiscal scarcity, and structural racism, as well as their effects on mental health, in this impressive volume." —Publishers Weekly (starred review)
"This lovingly crafted novel-in-verse is a much-needed reminder that compassion, both for oneself and others, can help make the world right as rain." —Bulletin of the Center for Children's Books (starred review)
"A searing exploration of the intricacies of racism, privilege, and self-worth within the confines of the Black community. Rain's journey is one that includes an acceptance of all the pieces of her identity that make her whole and unique."—ALA Booklist
---
Share this Product
---
More from this collection