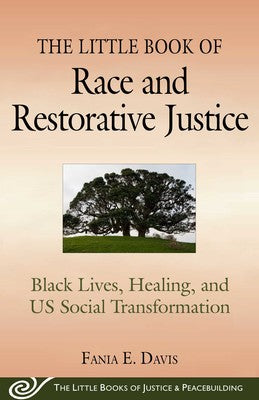 Fania E. Davis
The Little Book of Race and Restorative Justice Black Lives, Healing, and US Social Transformation
In our era of mass incarceration, gun violence, and Black Lives Matters, a handbook showing how racial justice and restorative justice can transform the African-American experience in America.
This timely work will inform scholars and practitioners on the subjects of pervasive racial inequity and the healing offered by restorative justice practices. Addressing the intersectionality of race and the US criminal justice system, social activist Fania E. Davis explores how restorative justice has the capacity to disrupt patterns of mass incarceration through effective, equitable, and transformative approaches. Eager to break the still-pervasive, centuries-long cycles of racial prejudice and trauma in America, Davis unites the racial justice and restorative justice movements, aspiring to increase awareness of deep-seated problems as well as positive action toward change.
Davis highlights real restorative justice initiatives that function from a racial justice perspective; these programs are utilized in schools, justice systems, and communities, intentionally seeking to ameliorate racial disparities and systemic inequities. Chapters include:
Chapter 1: The Journey to Racial Justice and Restorative Justice
Chapter 2: Ubuntu: The Indigenous Ethos of Restorative Justice
Chapter 3: Integrating Racial Justice and Restorative Justice
Chapter 4: Race, Restorative Justice, and Schools
Chapter 5: Restorative Justice and Transforming Mass Incarceration
Chapter 6: Toward a Racial Reckoning: Imagining a Truth Process for Police Violence
Chapter 7: A Way Forward
She looks at initiatives that strive to address the historical harms against African Americans throughout the nation. This newest addition the Justice and Peacebuilding series is a much needed and long overdue examination of the issue of race in America as well as a beacon of hope as we learn to work together to repair damage, change perspectives, and strive to do better.
---
Share this Product
---
More from this collection