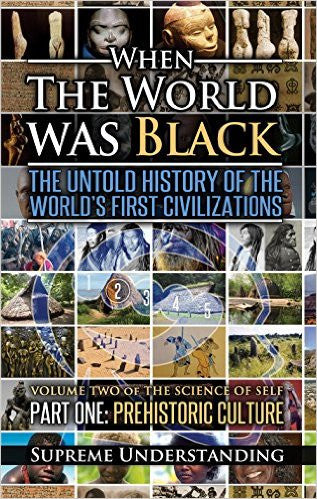 Supreme Understanding
When the World Was Black: The Untold History of the World's First Civilizations, Part One: Prehistoric Culture
When the World Was Black: The Untold History of the World's First Civilizations.
Part One covers the Black origins of all the world's oldest cultures and societies, spanning more than 200,000 years of human history.
Part Two tells the stories of the Black men and women who introduced urban civilization to the world over the last 20,000 years, up to the time of European contact.
Each part has over 100 helpful maps, graphs, and photos, an 8-page full-color insert in the center, and over 300 footnotes and references for further research.
Using the highest standards of scientific methodology and peer-reviewed sources with hundreds of citations and footnotes for further study!
Not pseudo-science. Real science. The Science of SELF.
Showing and Proving:
Why melanin can be found in our skin, in our brains, and in interstellar clouds
How life began on Earth and the process it went through to become the first people
The mathematical nature of all life processes
The Black origins of all the world's ancient civilizations
How indigenous traditions are often more effective than modern methods
The advanced technological abilities of prehistoric people
The Black builders of Stonehenge and what else they gave the world
The reason why many ancient civilizations fell apart
The way our societies worked before European contact
The role of the mind and consciousness in creating physical reality
The science of prophecy, prediction, and myth
The origins of the world's ancient religions
The Blackwoman's relationship with the living planet Earth
The history of Original people worldwide BEFORE 4,000 BC
The cyclical nature of history and how we can use the past to understand the present
---
Share this Product
---
More from this collection