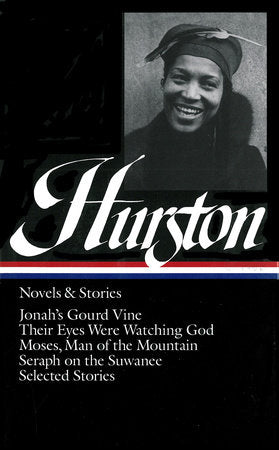 Zora Neale Hurston
Zora Neale Hurston: Novels & Stories
This Library of America volume, with its companion, brings together for the first time all of Zora Neale Hurston's best writing in one authoritative set. When she died in poverty and obscurity in 1960, all of her books were out of print. Today Hurston's groundbreaking works, suffused with the culture and traditions of African Americans and the poetry of black speech, have won her recognition as one of the most significant modern American writers.
Hurston's fiction is free-flowing and frequently experimental, exuberant in its storytelling and open to unpredictable and fascinating digressions. 
Jonah's Gourd Vine
 (1934), based on the lives of her parents and evoking in rich detail the world of her childhood, recounts the rise and fall of a powerful preacher torn between spirit and flesh in an all-black town in Florida.
"There is no book more important to me than this one," novelist Alice Walker has written about 
Their Eyes Were Watching God
 (1937), Hurston's lyrical masterpiece about a woman's determined struggle for love and independence. In this, her most acclaimed work, she employs a striking range of tones and voices to give the story of Janie and Tea Cake the poetic intensity of a myth.
In 
Moses, Man of the Mountain
 (1939), her high-spirited and utterly personal retelling of the Exodus story, Hurston again demonstrates her ability to use the black vernacular as the basis for a supple and compelling prose style.
Seraph on the Suwanee
 (1948), Hurston's last major work, is set in turn-of-the-century Florida and portrays the passionate clash between a poor southern "cracker" and her willful husband.
A selection of short stories (among them "Spunk," "The Bone of Contention," and "Story in Harlem Slang") further displays Hurston's unique fusion of folk traditions and literary modernism—comic, ironic, and soaringly poetic.
The chronology of Hurston's life prepared for this edition sheds fresh light on many aspects of her career. In addition, this volume contains detailed notes and a brief essay on the texts.
---
Share this Product
---
More from this collection